Several months ago the popular newsreader SABnzbd was updated to version 2.0 and starting checking for signed SSL certificates. You can learn more about the SABnzbd update here. Now NZBGet is starting to check for valid TLS certificates as well. Starting with version 19 NZBGet will start to check for valid SSL certificates. Connecting to Usenet via NNTPS (Network News Transfer Protocol Secure) requires Usenet service providers to install a SSL certificate.
Previously providers installed and used non-signed certificates which aren't validated before making a connection to the news servers. Recently major providers such as Fast Usenet have updated our certificates to signed SSL certs which offer an additional level of security. Signed SSL certificates ensure that you are connecting to the correct server.
The error message below is what will start appearing in NZBGet when connecting with a provider that haven't updated their servers to use signed certificates.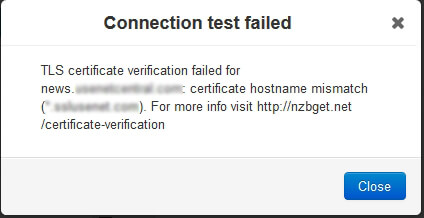 This is the message you will see when connecting with Fast Usenet to our secure SSL servers.